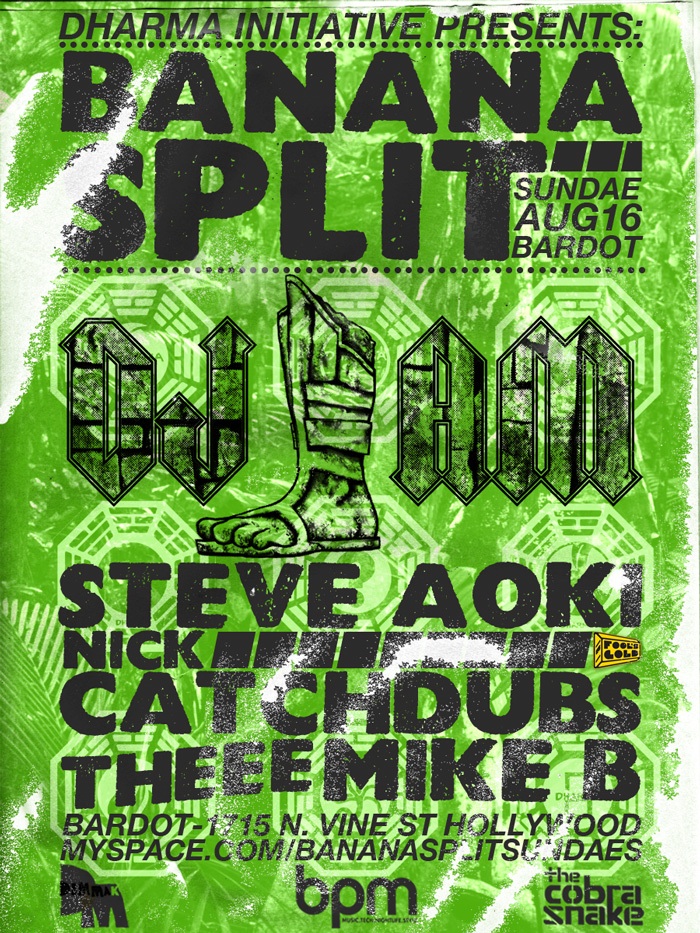 DamonCarltonAndAPolarBear.com
has been completely overhauled, now showing 16 picture frames, with the first of Paul, Damon, Carlton and Ronie Midfew (seen from only from behind). Clicking on it, or clicking on 'hub' takes you to your first hint... advertising Banana Split Sundaes - described as 'a house party... in a club!"
It looks like tonight's Sundae will contain some clue, and if you follow the poster to the
MySpace page
of the event and one of the organizers
Steve Aoki
, you see that all this stuff is completely real. The only real hint of a clue comes from The Mike B (one of the guests at the evening) on
his Twitter page
, saying "
Special guest dj set from John Locke at Bardot tomorrow... Namaste." Cheers to LOST ARGs for the heads up on that one.

So though the new DCPB website says that the hints will take you to physical locations, or just other websites... it doesn't seem like there's anything on this first clue other than "attend the event" at Bardot, Vine Street, Hollywood - and look out for something special. A bit of a weird ARG start, but nonetheless cool - will anyone be going? There must be some cool and trendy Lost Internet ARG players who also let their hair down in nightclubs. Anyway, enough chat, I'm off to do work for my research project in the library.... oh crud.

Update - Am liking theories that they got the address wrong on the poster on purpose. The actual address I believe is 1735, but the poster says 1715... which apparently is where Judy Garland's Hollywood Walk of Fame star is... a mere gaff??? Quite probably, but as Michael Emerson said "I like the way you're thinking".