"We didn't think anyone would play them backwards" claims script boss Gregg Nations
(April Fools Day Parody Post)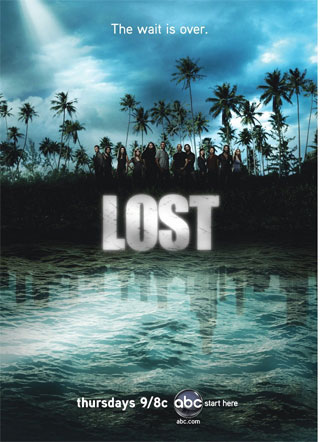 04/01/08 -
ABC
was hit Monday with a record
$
5M indecency fine by the Federal Communications Commission (FCC) for improper language in two recent episodes of the hit television drama
Lost
. The proposed fines, which include $7000 fines against each ABC local affiliate, underscore the FCC's efforts to enforce the Broadcast Decency Enforcement Act of 2005.
ABC press
officer
Jeff Fordis
released a statement reading that ABC believes the decision to be "capricious, arbitrary and not numerically consistent with fines for past alleged infractions, as well as an irresponsible action in light of the recent and ongoing appeals process regarding the federal government's decency campaign currently in the Supreme Court." American Civil Liberties Union Policy Counsel James Tucker commented, "this is paternalistic suppression of free speech and the creative process at its worst."

ABC's most recent indecency fine was a $1.2 million penalty for a 2003 episode of NYPD Blue which showed shots of a woman's bare buttocks (link). ABC's parent company Disney unsuccessfully challenged the penalty. The previous largest fine was a $3.5 million penalty levied against CBS for what the FCC described as essentially a "teen sex orgy" on a 2005 broadcast of the hit drama Without a Trace (link).

Broadcasts of Lost included numerous profanities as well as explicit sexual and bodily function language embedded in so-called "Whispers" in two of the episodes shown in March, "The Other Woman" and "Meet Kevin Johnson." The audio track of these whispers, when played backward, allegedly reveal the indecent language.

"We believe in enforcing tougher standards in broadcast decency and that includes language, especially during primetime when children are watching," said FCC spokeswoman Mary Diamond. "The language that was used was inexcusable. The fact that ABC retrospectively redacted this so-called "whisper audio" from their online streaming episodes reveals that they were aware of the content from square one."

ABC Entertaiment division chief Stephen McPherson dismissed the fine as likely to be overturned, noting that "the dollar amount is on its face improper as it exceeds the $3 million cap specified in the Broadcast Decency Act." When asked if the Lost executive producers Carlton Cuse and Damon Lindelof of Bad Robot Productions had briefed ABC on the matter before the broadcast, he replied, "We're trying to locate them ourselves, and we'll have no comment on this topic until that time and we have an internal discussion with them." According to yesterday's news at the website The Smoking Gun, Lindelof had been arrested in Pasadena, CA for indecent exposure when he allegedly threw his shorts at officers.

Although ABC Medianet and Lost's PR officer Erin Felentzer have apparently gone into media silence, a post at the official Lost discussion forums The Fuselage by frequent contributor and Lost script supervisor and writer Gregg Nations briefly appeared: "We didn't think anyone would play them backwards, it's simply unbelievable what has happened. I mean who would do that? It boggles the mind." This thread has since been removed. McPherson added, "Rest assured that the proposed fine will have no effect on our planned broadcast schedule or storyline content. ABC is committed to continuing with the remainder of Lost Season 4 beginning on April 24."

UPDATE: This story is actually an April Fools joke and is actually just a parody. April Fools.